In 1973, our Police Department was organized, with a one-man force located in the Town Hall. Over the years of service the need grew and it was expanded and moved to the Fire Station.
​
In 1975 a new fire station was to be completed. In order for the new $155,000 Fire Station, completed in 1975, to function, costly fire engines and equipment were needed. Only limited funds were available toward the purchase of a 1,000 gallon pumper, a 1250 gallon pumper and an 85-foot hook-and-ladder truck, the cost of which in the aggregate would be $207,764. An appeal to Indian River County for funds produced two agreements, one in 1975 and one in 1977, whereby the County paid $110,000 toward the purchase of the above equipment.
​
Around 1980, after many County-wide fire protection meetings, a plan was drawn up to establish three fire districts in the County to be supported by the respective taxpayers. This plan was subject to approval by referendum which excluded Indian River Shores. The plan was approved, and in September 1980, a new fire agreement between the County and the Town was executed, nullifying the former agreements and signaling a renewed spirit of cooperation. Under this new agreement, the Town delivered the 1,000 gallon pumper to the County, consented to provide fire protection from the north Town limit to the Sebastian Inlet on the barrier island for a period of 3 years, and further agreed to make the aerial ladder truck available for training purposes to both the north and south County fire districts at no charge. This agreement expired in 1983, so that now we own our fire department in its entirety.
​
In 2007 the department was reconstructed due to damages sustained from hurricane Jean and Francis.
Today the department has 23 full time officers that are certified Law Enforcement, Firefighters and Emergency Medical Technicians with the majority of them being Paramedics.
​
Indian River Shores Public Safety Department
6001 N A1A
Indian River Shores, FL 32964
​
Email:
Non-Emergency: 772-231-2451
Emergency: 911
8:00 AM - 4:30 PM
Monday - Friday
Weekend hours:
Call 772-569-6700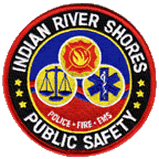 Keeping citizens informed
COMMUNITY NOTIFICATION ENROLLMENT Indian River Shores Public Safety, FL
Please take a moment to click on the link below and fill in the appropriate information to be notified by your local emergency response team in the event of emergency situations or critical community alerts.

Examples include: evacuation notices, bio-terrorism alerts, boil water notices, and missing child reports.
Creating a managed account will allow you access to modify your existing notification settings and contact information. You may also further customize the types of notifications you receive and add an additional address for the CodeRed system to monitor.